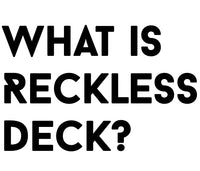 Basically, It's your ultimate Box of Ideas.
It's a deck-building toolkit full of prompts for shattering creative blocks. It gives artists, writers, and RPG gamers the power to wield all of the most iconic imagery from all across Sci Fi and Fantasy, and endlessly recombine them in stunning, surprising new ways. It breaks all the rules of what genres are supposed to be, and gets you creating innovative and fresh characters unlike anything you're used to seeing.
DECKS
Each Deck is 75 individual cards, with each one containing a unique character creating prompt. infinitely shuffle and reshuffle, and generate a never ending supply of inspiration for your art, stories, or gaming adventures.
SHOP DECKS
EXPANSIONS
Deck-build your collection to suit your individual creativity with a host of 20 card Expansion Packs. Each Expansion is laser focused on one particular genre or sub-genre, so you can stack your deck with the content that's going to fire your creativity the most. 
SHOP EXPANSIONS
ACCESSORIES
Choose between magnetic boxes, custom coins, deluxe playmats, and resin gaming miniatures for taking your storage, gaming, and creativity to the next level.
SHOP ACCESSORIES