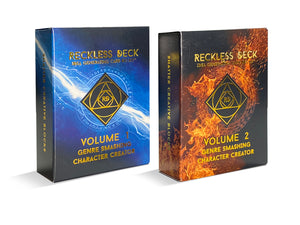 Get the new 3rd edition decks as a pair and save a few bucks! Volume 1 and Volume 2 integrate seamlessly with each other to provide endless genre-smashing character ideas - and with the new icons on each card indicating their home deck, separating them back into their original format has never been easier.
Both Volumes have all the the 3rd edition upgrades & improvements:
Each has 20 cards of revised or all-new card content
Both decks upgraded from 72 to 75 cards 
Improved paper stock and foil card backs
Stunning new tuck box designs with gold foil accents
Folded inserts full of ideas on how to get the most out of your Reckless Deck
Volume 2 comes with the new 6th category: POWERS
Don't miss out on the chance to double down on upgrading your creative potential.